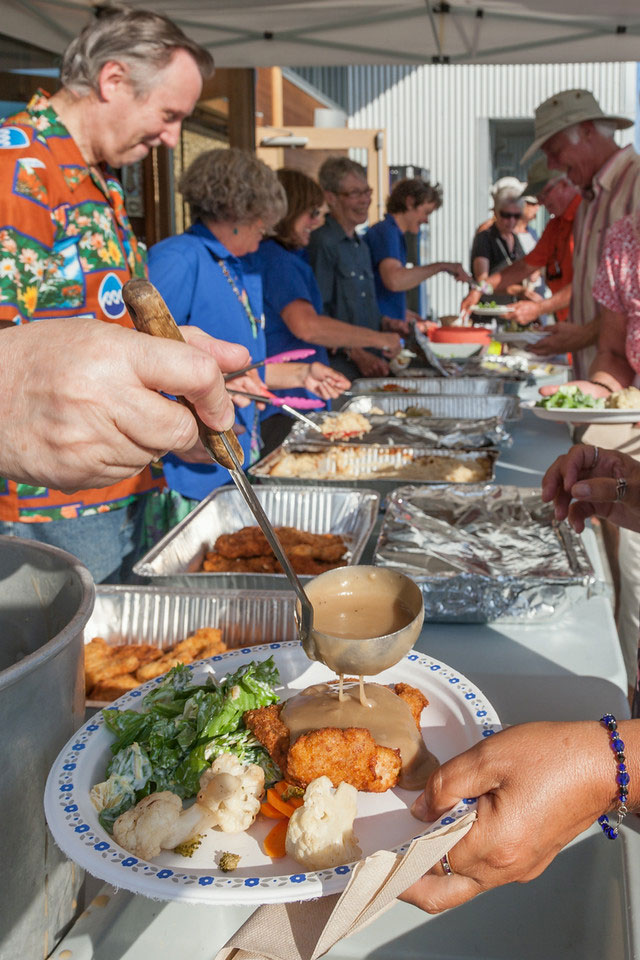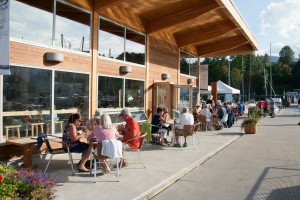 Our most popular events of the summer are Dine On The Dock, happening every other Friday, starting June 2 and runs until September 8. Bar opens at 5:00 p.m. and dinner is usually at 6:15 p.m.
These are fun times on the dock, and interestingly, we always have a sunny evening! Our chefs from the Oyster Bay Cafe cater each dinner at the Welcome Centre and on our Social Dock. Menus range from lasagne to BBQ ribs, and always include a vegetarian option.
The kick-off dinner on June 2nd is a special "Feast Of The Pirates" evening as we invite buccaneers to dress in full regalia and compete for a special prize. The mood and the food will be bountiful and set the stage for the following day on the docks — Kids' Pirate Day!
What could be better than delicious food, music, great company… all as you dine watching the sun set over Oyster Harbour!
Dates & Menus for 2017 are:
June 2: Feast of the Pirates! SOLD OUT! Event over until next year!
June 16: Mexican Fiesta! Taco/Burrito Bar, Mexican Caesar salad, beans, Mexican rice, salsa, veggies, with Aztec chocolate chip cookies
July 7: Indian Night with butter chicken, cucumber carrot cumin salad, coconut basmati rice, Indian chick peas, vegetable korma, with chai vanilla spiced cream tarts
July 21: Southern BBQ chicken thighs, Caesar salad, fresh roasted potato nuggets, southern green beans, corn-on-the-cob, and chocolate chip cookies
Aug 11: Hawaiian Luau with Maui chicken, mango coleslaw, shoyu fried noodles, Szechuan green beans, lentil tabbouleh, and tropical treat squares
Aug 25: Italian Night with spaghetti & meatballs, bacon basil Caesar salad, vegetarian lasagna, ratatouille, garlic toast, and cinnamon cappuccino tarts
Sep 8: Everyone's Favourite – BBQ Ribs slow cooked, Caesar salad, garlic mashed potatoes, home-style baked beans, corn-on-the-cob and chocolate chip cookies! Always a vegetarian option available!
Tickets sell-out quickly, so we recommend that you purchase yours at least a week ahead. Cost is $20 per person and there is a cash bar.
Purchase tickets at the Welcome Centre or online at:  http://tickets.lmsmarina.ca.