Have you ever wondered what lies beneath our waters?
The Warmest Harbour North of San Francisco!
Visit our Sea Life Centre and discover magical and mysterious creatures from Ladysmith Harbour!
The floating Sea Life Centre is located just south of the Welcome Centre on our docks and contains wonderful, informative displays, touch tanks, and a viewing portal in the floor where you can peek at passing fish.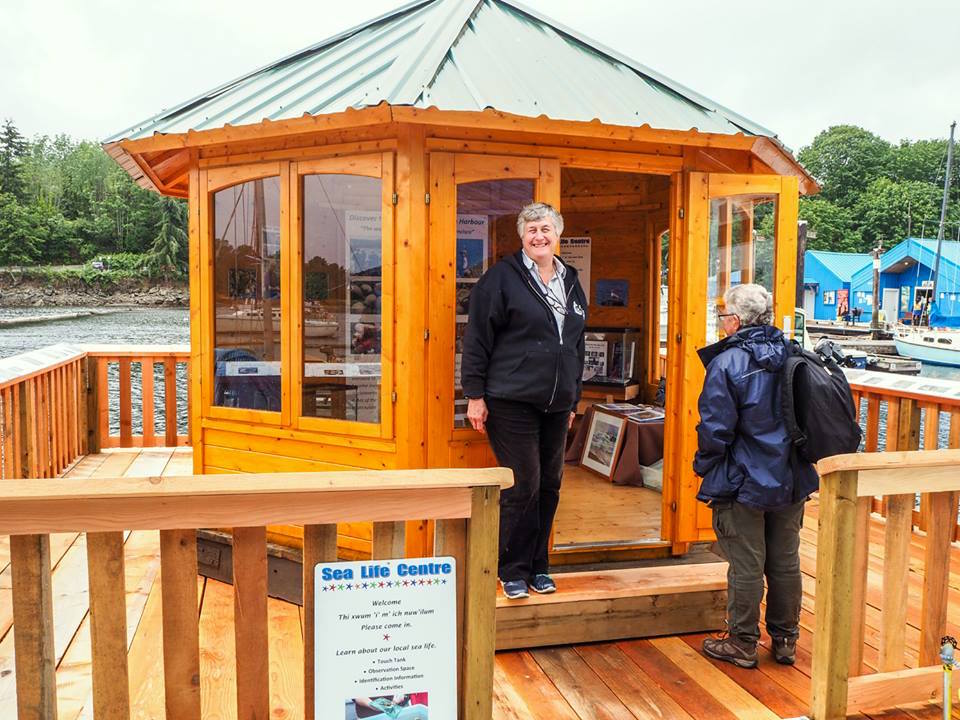 Learn about local sea stars, mussels, oysters, sea grasses and how our ancestors used our ocean's resources. Find out how this fragile environment is endangered and what you can do to help us preserve, protect and promote this marine environment.
Collect creatures
Examine specimens
Identify sea life
Games
Art projects
LMS' most recent addition to environmental education is a Sea Life Centre built in 2016. It is a floating gazebo on a 20′ x 20′ dock surrounded by a viewing shelf and fence that displays photographs with descriptive sea life identification.
The Centre is a special place where touch tanks showcase our sea life and provide hands-on experiences that involve divers, marine biologists, and students from our Ladysmith and Stz'uminus communities. The viewing section in the middle of the floor also provides the perfect opportunity to introduce people to the magic and wonder of the sea life of Ladysmith Harbour.
Our Sea Life program teaches visitors of all ages about sea life, inspires them to protect it and allows them to explore how sea life and oceans contribute to all of our lives.
We are delighted to announce the 2023 schedule for Music on the Dock. Sit back, relax while enjoying live music with a refreshing beverage in your hand and close friends by your side. Doors open at 7.00pm. Musicians will play for approximately 2 hours with short breaks. Evenings conclude at 9.30pm.
For our Dine on the Dock events, doors open at 5.00pm. Bar service from 5.00pm and dinner service is at 6.00pm. Last call at the bar is at 7.30 pm. Our wonderful musicians will play from approx 5.30pm to 6.30pm and then 7.00pm to 7.30pm. Enjoy fabulous food, wonderful scenery and relax!
Sign up for our Email News
It's a double opt-in list so you'll need to confirm.