Ladysmith Tall Ships Society
In 1985, the Mayor of Ladysmith suggested to several people that Ladysmith should enhance the waterfront and build a tall ship. A group of sea-loving citizens agreed and on July 22, 1985 the Ladysmith Tall Ships Society was formed.
Much effort was dedicated to the project to build British Columbian with the hope she would be ready for use during Expo '86. For a variety of reasons, mostly financial, the project was unachievable. Members decided to alter their emphasis to the preservation of heritage vessels which could be restored to useful service. During this first year 300 feet of aged docks, donated to the Society, were refurbished by volunteers.
The Society shared the costs of applying for a grant to restore the Expo Legacy Site. The "machine shop" was substantially restored to a useable condition; as well, a lookout and amphitheatre were constructed on the site.
For the next several years the 63 ft. ketch Lesquiti was available to the Society. Cruises were enjoyed by members, guests, municipal and provincial officials until 1990 when Lesquiti was reclaimed by her family.
During this time the Society worked to develop the Ladysmith Heritage Harbour Expo Legacy Site, which was officially opened in 1988.
In 1988 the proprietor of a local marine company donated $500 and the woefully timeworn wooden tug Saravan to the Society. Provincial lottery funds were obtained to train wood-workers in restoration skills. Qualified members of LMS provided the expertise and the Town of Ladysmith provided work space in the "machine shop" on the Expo Legacy Site. Three years later, on June 1, 1991, Saravan was returned to the sea and has been in service ever since.
About the same time a boathouse was a welcome gift to protect her from the elements. Since her restoration, thousands have boarded Saravan and she has represented the Town and the Society at such wooden boat festivals as the Victoria Classic Boat Show ("honourable mention" in 1992), Port of Sidney Wooden Boat Festival, Cowichan Bay Maritime Festival, Ganges Harbour Sea Festival, Westcoast Work Boat Association rendezvous and the Maple Bay Wooden Boat Festival.
Ladysmith Maritime Society
In 1991, the members agreed the Society name was no longer appropriate and, on July 10, voted to become "Ladysmith Maritime Society."
Eight huge outdated propane tanks were donated and towed to Ladysmith harbour in 1992. Four were retained by the Society for use as a breakwater; two were sold to Ladysmith Yacht Club as floatation for its clubhouse; the rest were sold to others.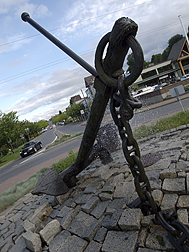 A large ancient anchor was retrieved from the seabed of Ladysmith Harbour by a local commercial diver. After being donated to Ladysmith Maritime Society, it languished out of sight as there was no display site available. It passed through several hands before acquiring a place of prominence as the centrepiece of the roundabout at 1st Avenue and Symonds Street.
To promote interest in Ladysmith's waterfront and marine heritage, a "Maritime Festival" was held in 1993. Registered vintage vessels were invited and were open to the public. Harbour tours and a "boom boat ballet" were supported by on-shore boat and equipment booths, model boat building for children, a fashion show and food booths. This was successfully repeated the following year. The organization of these festivals proved to be an all-absorbing, all-year activity for all the active members of the Society. The decision was reluctantly made to discontinue the festival so that the Society could concentrate on its aims of collecting historical marine artifacts, restoring locally built vessels, and operating the marina.
By 2005 we were ready to try a modest festival again and an "open house" was held to show off our fleet and new boathouse. Invited steamboats and engines were an added attraction. The second "open house" in June 2006 showcased offshore boats and their adventurous crews.
In 2007, an expanded Maritime Festival was enjoyed by young and old with the waterfront decorated in a pirate theme.
By emphasizing family fun around the waterfront, the 2008 Maritime Festival saw an increased number of participants. 2009's special activities revolved around a tribal journey and dinner celebrating cooperation between the Town of Ladysmith and the Chemainus First Nation.
Donated vessels have expanded the Society's fleet. C.A. Kirkegaard, a 29-foot retired local ferry, was restored–again–assisted by government vocational training funds. She was re-launched in 1993.
A deep sea vessel's life boat, now our tour boat, Maritimer came our way on the dissolution of the Ladysmith Waterfront Enhancement Society. The restoration of a Porlier Pass troller, originally built in Saltair circa 1930, was completed in time for her to participate in the 2003 Light Up parade. A 1959 Glaspar Club Mariner, donated as a memorial, was restored and displayed for the first time at the 2005 Steamboat & Heritage Boat Show. A work boat off the renowned deep-sea tug Sudbury II was restored in 2007.
In recent years, restorations and maintenance took place in the "Car Shop," now known as the Boat Restoration Shop. Repairs and maintenance to the shop have been a major project requiring considerable Society funds and many volunteer hours. There is still more to be done but a washroom, heating, secure storage for tools and a small meeting room are proving valuable to the Society.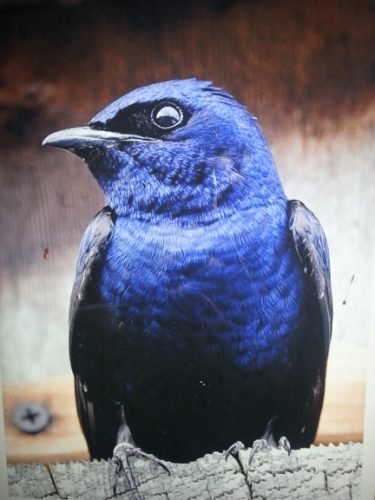 Our marina has provided a successful nesting site for the endangered West Coast Purple Martins. Cooperation between LMS and the BC Purple Martin Stewardship & Recovery Program has resulted in attaching nest boxes to dock pilings, advising of arrival date of purple martins, assisting with the counting and banding of birds and locating an information kiosk (wheelbarrow shelter) at the head of the marina. A nestcam is relayed to a screen left of the Bill Adair Boathouse entrance.
In 2005, LMS donated the materials and our volunteers built a special purpose dock for the disabled sailing program of Cowichan Valley Independent Living. LMS also provides free moorage for their vessels. We welcome this opportunity to support such a worthy group interested in boating.
Over the years the docks have expanded and been upgraded from dilapidated, discarded, forestry company floats to the present 3,500 feet of useable and safe moorage space; 1,100 feet are designated for visiting boats during the cruising season. LMS welcomes everybody to use its "Social Dock" adjacent to the Welcome Centre, walk the docks and enjoy the marina.
Our award-winning floating Museum, which was completed in 2007, now houses local marine communication, navigation, safety equipment and artifacts.
Please note the Harbour Heritage Centre, located at 610 Oyster Bay Drive is closed indefinitely while the Town of Ladysmith-owned building undergoes a major renovation.
The Society continues to work towards developing an attractive presence on Ladysmith's waterfront, restoring historic vessels, sharing waterfront history through education and ambassador programs.
We are delighted to announce the 2023 schedule for Music on the Dock. Sit back, relax while enjoying live music with a refreshing beverage in your hand and close friends by your side. Doors open at 7.00pm. Musicians will play for approximately 2 hours with short breaks. Evenings conclude at 9.30pm.
For our Dine on the Dock events, doors open at 5.00pm. Bar service from 5.00pm and dinner service is at 6.00pm. Last call at the bar is at 7.30 pm. Our wonderful musicians will play from approx 5.30pm to 6.30pm and then 7.00pm to 7.30pm. Enjoy fabulous food, wonderful scenery and relax!
Sign up for our Email News
It's a double opt-in list so you'll need to confirm.