The history is in the wood!
On the southeast side of the Welcome Centre, you'll find another large blue boat shed named the Bill Adair Heritage Boathouse. Here you'll find the Saravan, a local 1938 restored tug boat. The pictoral display shares the history of two wooden vessels that our volunteers have restored.
The Bill Adair Heritage Boathouse is open daily in the summer months. Please contact the Marina Office during winter months if you wish to have a look at the displays.
The Saravan tug boat was built in 1938 for Harry Van Froome and named for his wife, Sara. In 1988 the boat was donated to LMS by Ken Mulholland, and refurbishment by our volunteers and trainees continued until 1991. This work was made possible through government lottery funds used for training young people in restoration skills.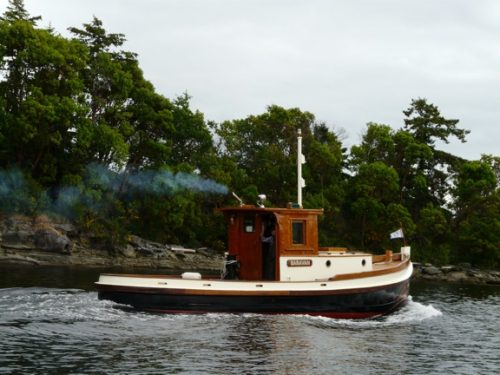 For many years, the Saravan was used by LMS as a passenger vessel for harbour tours, however was retired in 2009 due to Transport Canada regulations that would require a refit that would alter the vessel's authenticity. For the next two years, LMS volunteers again worked to restore the Saravan to her original glory, in time for the 2012 Ladysmith Maritime Festival (now known as the Heritage Boat Festival).
Great attention was paid to historical detail, for example, obtaining and using authentic old brass from a Vancouver foundry. The shipwright and caulker, along with many volunteers, worked steadily on Saravan. Some of the work included rewiring, building a new stern, replacing planks, making new deck planks, replacing caulking, removing varnish, installing the tow post, a new bronze propeller and a host of finishing work.
Come and see the Saravan's beauty; traditional tug boat colours with her strong timbers stacked to make the stern match the power of ocean swells.
Below: Enjoy this lovely video by Shaw TV Nanaimo, showcasing the MV Saravan. We hope you enjoy this video, highlighting this beautiful heritage tug boat and beloved member of our fleet!
C.A. Kirkegaard was originally built as a crew boat for C.I.L., moving men from sites around the Gulf Islands. Later in her life, this boat worked as a ferry in local waters.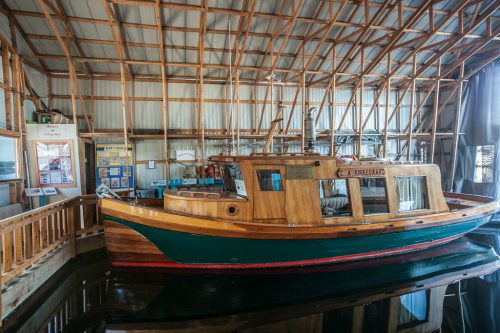 After C.A. Kirkegaard was donated to LMS, our expert craftsmen went to work to restore her, while providing vocational training to young people through the same government program as used with the Saravan.
Today, the 29-foot C.A. Kirkegaard is back in the shop for another restoration. Come to the Boat Shop any Monday, Wednesday or Friday (9am-noon) to walk and chat with the men so lovingly repairing her again. She is in good hands.
Maritimer, our tour boat, began as a lifeboat with BC Ferries and has been lovingly restored.
Today it carries visitors on Harbour Tours to hear stories of our local history and culture and see wildlife living in our beautiful bay.
After a wonderful 2023 Summer Season, we are busy preparing for 2024!
Even in the Winter Season, you can still get involved. Become a member, or join our team of volunteers.
At the end of the year, we host our AGM. To attend and vote for new Board of Directors, you must be a member in good standing. So drop into the Welcome Centre to pick up a form and pay your dues.
Sign up for our Email News
It's a double opt-in list so you'll need to confirm.