Dock spaces and boathouses are competitively priced because we are a volunteer-run, registered charitable organization.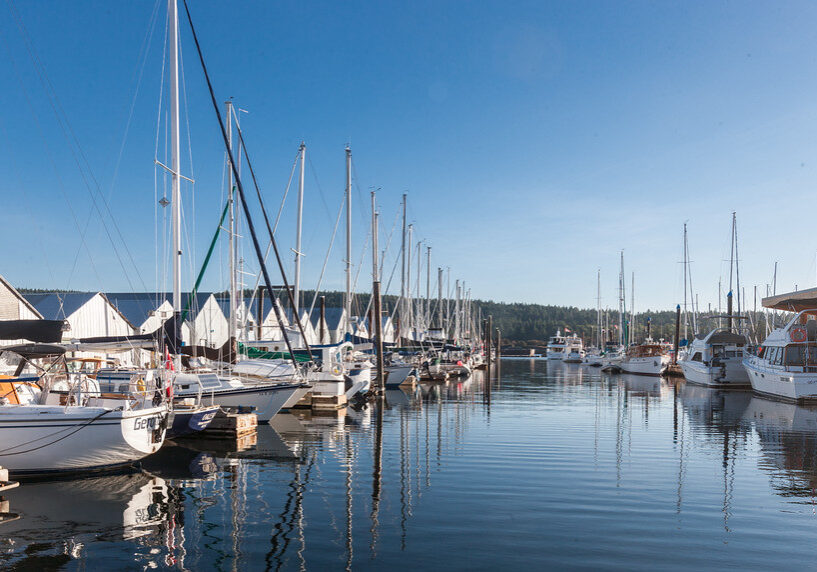 Annual Moorage
Open Moorage
$8.70 per foot per month ($8.20 pfpm when pre-paid).
Covered Moorage (existing buildings only)
$0.68 per square foot per month ($0.65 psfpm when pre-paid).
No new boathouses are permitted entrance to the Marina in accordance with our agreement with the Town.
No overnight staying permitted in a boathouse.
FAQs
Parking (Town Bylaw 1309)
Maximum of 72 hours.
No overnight parking in the lower lot, per Town signage.
Staying Aboard your Vessel (Town Bylaw 1860)
Live-aboard Status (LAS)
Additional $50 per month.
Maximum of 12 Marine Assets with LAS in accordance with our agreement with the Town.
Application with private interview and subsequent approval required.
Maximum of 2 persons aboard.
No pets.
One vehicle only and must be parked on Oyster Bay Drive only (upper lot).
Please use this form to inquire about moorage for your boat and we will get back to you as soon as we can.
The World Travel & Tourism Council (WTTC) has granted the use of its Safe Travels stamp to Vancouver Island. Tourism stakeholders in the Vancouver Island region can apply for use of the Safe Travels stamp once they have met the health and hygiene protocols outlined by the WTTC. The Ladysmith Maritime Society Marina has been approved for use of the stamp.
This stamp allows travellers to easily recognize destinations and tourism businesses around the world that have adopted globally standardized health and hygiene protocols to ensure visitors have a safe and enjoyable experience.
After a wonderful 2023 Summer Season, we are busy preparing for 2024!
Even in the Winter Season, you can still get involved. Become a member, or join our team of volunteers.
At the end of the year, we host our AGM. To attend and vote for new Board of Directors, you must be a member in good standing. So drop into the Welcome Centre to pick up a form and pay your dues.
Sign up for our Email News
It's a double opt-in list so you'll need to confirm.