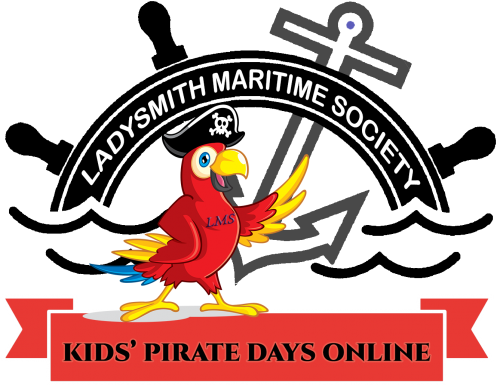 Ahoy, Maties!
Behind closed doors down in the bilge there are several Pirates, Scallywags and Seadogs plotting and scheming for this year's Kids' Pirate Days – going virtual on May 31st, showing 3 videos that week with a finale day Sunday June 6th.
Starting on Monday, May 31st the first episode of this year's Virtual Kids' Pirate Event will be posted on www.kidspirateday.com, along with episodes airing on Wednesday June 2nd and Friday June 4th.  On Sunday June 6th we are planning a COVID safe celebration at Transfer Beach and music at the Amphitheatre from 10am to 2pm.
Our target audience is 4 to 12-year-old Buccaneers along with parental guidance and participation to help create an enjoyable and fun experience for all.  200 kit bags will be prepared by the enthusiastic pirates of the Royal Bank branch in Ladysmith. The bags are filled with pirate supplies and materials needed for participation in the video activities. There is going to be something for everyone and every age. You may recognize a neighbour or friend known in your community that has gone "pirate".
More details coming soon!   Aaaarrrrggghhh!