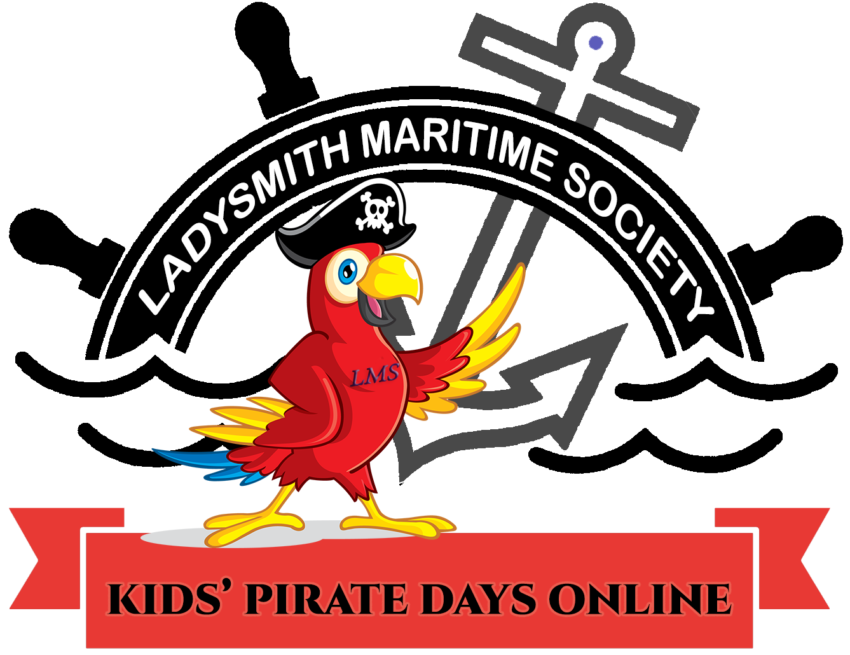 Kids' Pirate Day became a 5-day Event in 2020
We did not let COVID-19 ruin our annual family event. This fun, day-long event became a 5-day extravaganza with videos and activities for children to participate in from August 24 through 28, 2020. We worked hard with other businesses to make this an exciting event for all.
The first episode Kids' Pirate Days Online was posted to the internet on Monday, 24 August 2020. Five 30-minute episodes are still online for your viewing pleasure. Each daily show focused on a different theme related to the imaginary world of pirates. Episodes are magazine-style, fun-filled programs including a colourful mix of maritime information, participatory activities, stories, treasure hunt, jokes, and quizzes. The target audience for the event iss 4-12 years old but parental guidance and participation will help create an enjoyable experience.
200 Pirate Kits were prepared by the enthusiastic pirates of the Royal Bank branch in Ladysmith. You can still participate by collecting the following items:
Crayons
Shoe lace or string or yarn
Long skinny balloons
Bicycle pump with adapter (not part of the kit)
Coloring pages that you can download below
This novel and unique project was made possible through the support, participation and enthusiasm of many volunteers, amateurs and professionals alike: the Royal Bank of Canada in Ladysmith, BC Gaming, the Town of Ladysmith, the Ladysmith Chamber of Commerce, Ladysmith Family & Friends (LaFF), The Chronicle, Take 5, MyLadysmith.com and many others.
Arrrgh!
P.S. Kids' Pirate Day t-shirts can be purchased at the LMS Welcome Centre at 611 Oyster Bay Drive (250-245-1146 press 2).
DOWNLOAD YOUR PIRATE KIT!