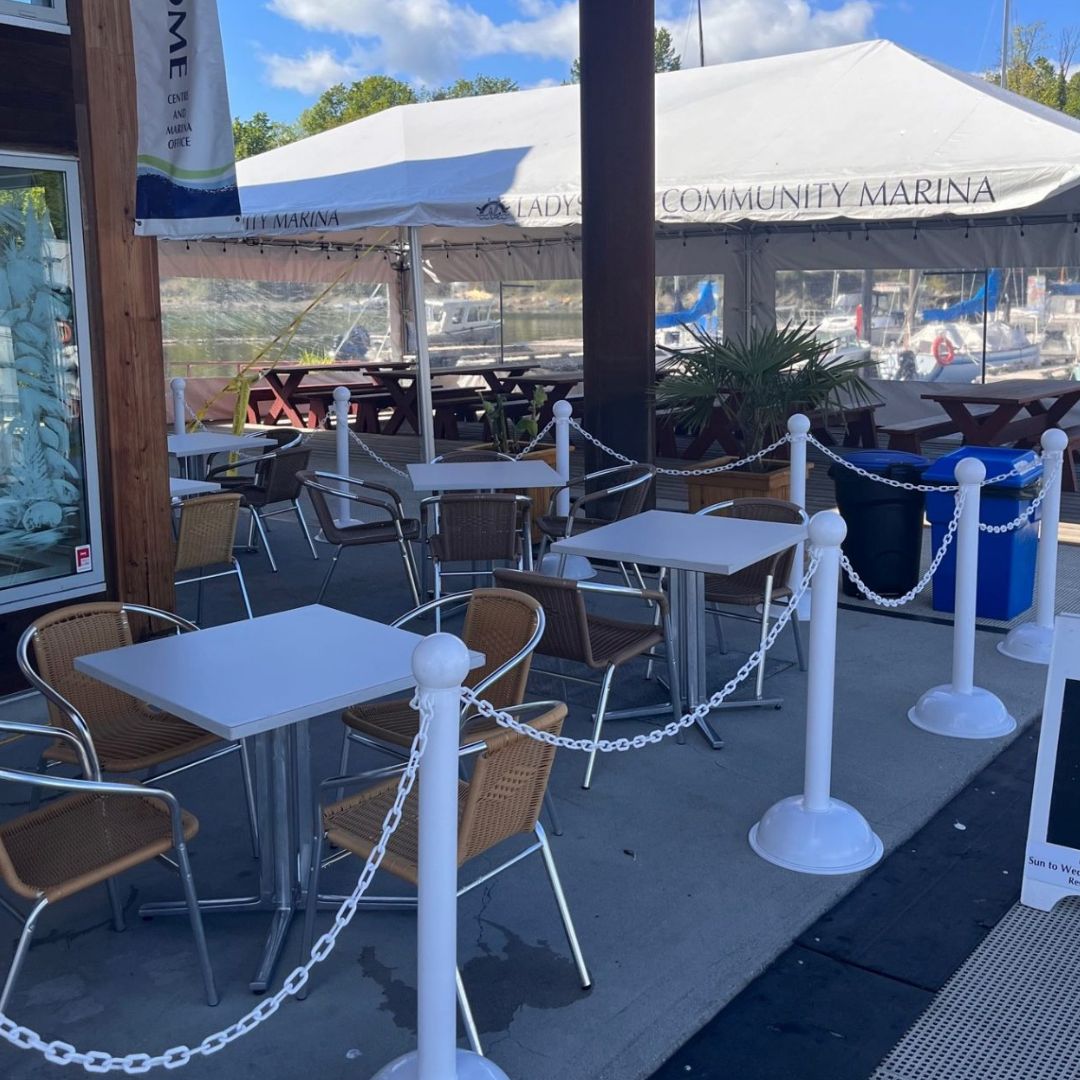 The Oyster Bay Café, located in the Welcome Centre, opened in the spring of 2014 and serves freshly-made culinary delights for breakfast and lunch. In 2015, the talented chefs from In The BeanTime Café began to run the show and created a menu with a distinctive emphasis on local, seasonal seafood.
Breakfast items include the Breakfast Bagel, Garden Breakfast Wrap, traditional Eggs Benny or nautical Neptune Eggs Benny! We also offer a full espresso bar to help you get your morning caffeine fix. For lunch, there are favourites such as wraps and sandwiches, or you can dive into one of our Ahi tuna delights such as our seared Ahi tuna tacos (with sesame slaw and mango Pico de Galo), seared Ahi tuna luau burger, or on the lighter side, our seared Ahi tuna nicoise salad.
After 5:00 pm, dinner service begins featuring crab cakes, burgers, beer battered oysters, coconut shrimp tacos, Ahi tuna poke bowls and much much more. We are fully licensed and offer breathtaking views of the harbour and boats at the marina. What could be better than enjoying a gentle breeze while sitting dockside and enjoying a delightful meal with a cold beer or delightful glass of wine? Come on down and say hi!
Reservations are recommended. Call us at 250-924-2245 to reserve now.
We are delighted to announce the 2023 schedule for Music on the Dock. Sit back, relax while enjoying live music with a refreshing beverage in your hand and close friends by your side. Doors open at 7.00pm. Musicians will play for approximately 2 hours with short breaks. Evenings conclude at 9.30pm.
For our Dine on the Dock events, doors open at 5.00pm. Bar service from 5.00pm and dinner service is at 6.00pm. Last call at the bar is at 7.30 pm. Our wonderful musicians will play from approx 5.30pm to 6.30pm and then 7.00pm to 7.30pm. Enjoy fabulous food, wonderful scenery and relax!
Sign up for our Email News
It's a double opt-in list so you'll need to confirm.