2017 Education Program
The Ladysmith Maritime Society is proud to provide teachers and students with interesting and educational tours that expand understanding of our local heritage.
During the month of June, the Ladysmith Maritime Society is offering a few educational field trips on the following days:
June 22, Thursday
June 23, Friday
June 28, Wednesday
June 29, Thursday
If you have other dates in mind, please make a request and we will try to get volunteers to run the Program for you.
Our Education Program – Field Trip will provide learning opportunities at Ladysmith Community Marina Dock.
Arrival: 10 am – Once the class gets off the bus they will meet at the Heritage Park Reception Centre, 614 Oyster Bay Drive. The class will be welcomed and divided in to 3 groups of approximately 8 to 9 students. Each student will put a snack in their pocket and then in their groups with their leaders walk cautiously across the road, down the stairs to the ramp which leads to the Ladysmith Community Marina.
GROUP 1 will be outfitted with lifejackets at the base of the ramp, then go on the "Maritimer" boat for a tour of Ladysmith Harbour. The Harbour Tour is conducted by a LMS certified operator who adheres to all safety procedures and standards. The tour operator will share waterfront cultural and industrial history and point out local sea life during this adventure. Tours are dependent on good weather and if the tour boat ride has to be cancelled, alternate learning experiences will be provided in the upstairs room of the dockside Welcome Centre or under the big tent.
GROUP 2 will spend time with our educator in the Maritime Museum experiencing the new walk-in display representing an OLD 1889 SHIP CAPTAIN'S CABIN, learning about safety on the water with a story using puppets, learning about the other museum displays with an ABC treasure hunt, and viewing a slide show.
GROUP 3 will spend time with our educator in the Sea Life Centre gazebo and dock learning about the local sea life. Aquariums/touch tanks will allow students to get a first-hand look at some of our creatures. Also there will be opportunities to learn about the Purple Martins and how they have multiplied at the Marina.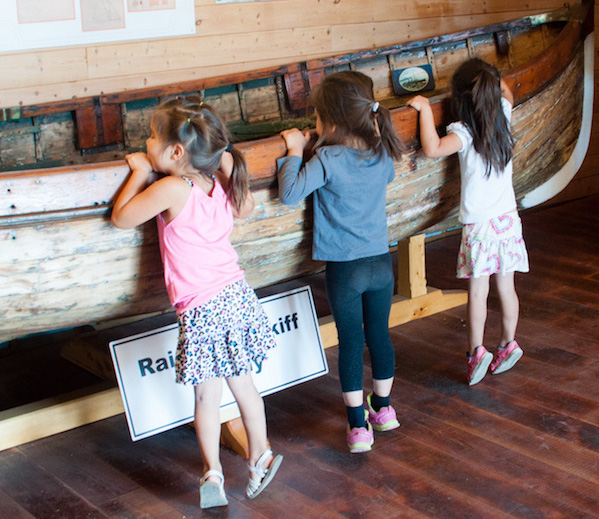 LUNCH: Students bring their own snack and lunch with a drink. The gathering place for Lunch will be under the big tent in front of the Welcome Centre. All three groups with their teacher, group leaders and LMS educators will enjoy lunch together.
HANDS-ON PROJECT: Students will engage with meaningful connections to their educational waterfront experiences while creating a take-home, hand-made project.
CONCLUSION: A short review or quiz game will bring each education program to a close.
DEPARTURE: Approximately 1:30 pm – 2 pm to accommodate your bus schedule.
For more information or to request a field trip for your group, call us at 250-245-1146 or click below for the Booking Form to complete and send us by email at info@lmsmarina.ca