Saturday, October 20 at 2 pm

Free event and open to all!
with the BC Marine Parks Forever Society

The BC Marine Parks Forever Society donated $749,310, made possible by donations from thousands of boaters, a large bequest and the Eden Conservation Trust, to the BC Government to purchase a 6.2-acre island of the Harmony Island Group, Hotham Sound. Join us to learn about more exciting things happening because of this group of dedicated marine lovers.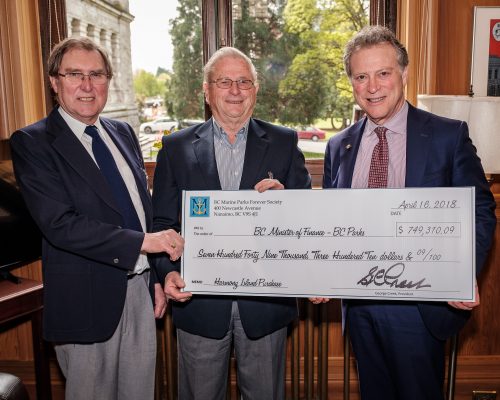 L-R:  Bill Wilson, President, Council of BC Yacht Clubs;
George Creek, President, BC Marine Parks Forever Society;
George Heyman, Minister of Environment, BC Parks
Don't let this event interfere with VOTING in the local election at the Frank Jameson Community Centre today (8 am to 8 pm).
Talk on the Dock events are sponsored by the Ladysmith Maritime Society – proudly an accredited Clean
 Marina!