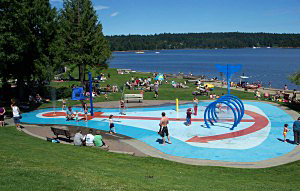 The LMS Community Marina is close to many of Ladysmith's attractions, including Transfer Beach Park, which is just a short walk away.
The Park is a gathering spot for summer activities offering a swimming area, picnic tables, concession stand, washrooms, beach volleyball, kayak and paddleboard rentals and a kids' playground and waterspray park.
Downtown Ladysmith is a 10-minute walk from the Marina where you'll discover a wide variety of café's, pubs, shops and services. The 49th Parallel Grocery offers a special service to boaters by providing a FREE shuttle service from the store to the Marina. Delivery can be arranged for a small fee.
Visit the links below for details on what's happening in Ladysmith and discover the Top Ten things to do!