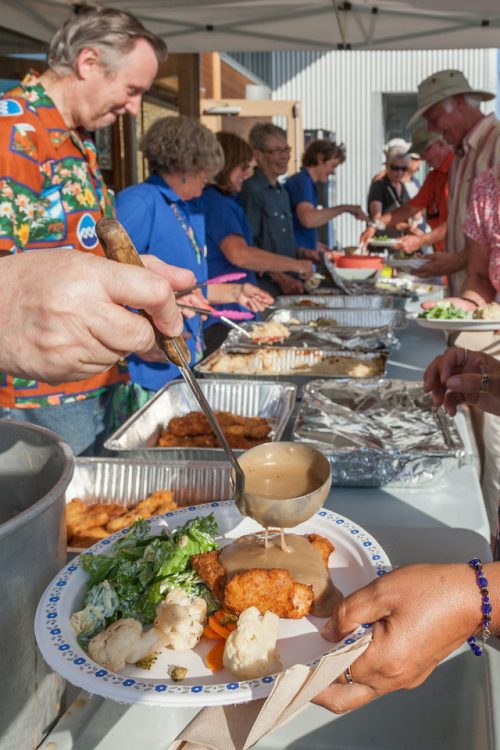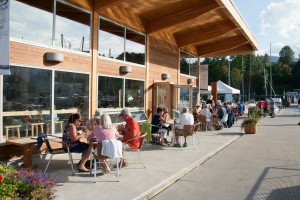 Our most popular events of the summer are Dine on the Dock, starting May 31, 2019. Bar opens at 5:00 p.m. and dinner is usually served at 6:15 p.m.
These are fun times on the dock, and interestingly, we always have a sunny evening! Unless otherwise noted, In the BeanTime Café caters each dinner on our Social Dock. Although you line up for your food it is not a buffet. Please consider others when filling your plate.
The kick-off dinner on May 31st will be a special "Feast of the Pirates" evening as we invite buccaneers to dress in full regalia and compete for a special prize. The mood and the food will be bountiful and set the stage for the following day on the docks — Kids' Pirate Day!  Argh Matey!
There is a possibility of adding a few more dinners for the season, with the possibility of new and exciting caterers. What could be better than delicious food, music, great company . . . all as you dine watching the sun set over Oyster Bay Harbour!
Dates & Menus for Summer 2019

May 31   Feast of the Pirates   Slow-cooked BBQ ribs (or veggie kebabs), Caesar salad, garlic mashed potatoes, home-style baked beans, corn-on-the-cob.  Chocolate cream raspberry tartlets.
June 14   Mexican Fiesta   Taco/Burrito Bar including Mexican Caesar salad, seasoned beef beans, Mexican rice, salsa, veggies, soft-shell tortillas with all the fixings.  Aztec chocolate chip cookies.
July 5   Brits on the Dock   Roast beef (or mushroom/squash pot pie), roasted vegetables, garlic mashed potatoes, gravy, Yorkshire pudding.  Toasted coconut custard tartlets.
July 19   Indian Night   Butter chicken (or vegetable korma), cucumber carrot cumin salad, coconut Basmati rice, Indian chick peas.  Chai vanilla spiced cream tarts.
August 2   Southern BBQ   BBQ chicken thighs (or vegetarian chili), Caesar salad, fresh-herb roasted potato nuggets, southern green beans, corn-on-the-cob.  Chocolate chip cookies.
August 16   Hawaiian Luau   Maui chicken (or pineapple veggie kebabs), mango coleslaw, shoyu fried noodles, Szechuan green beans, lentil tabbouleh.  Tropical treat squares.
August 30   TBD
Ticket price yet to be determined for 2019.
Tickets go on sale May 1st, 2019 and may be purchased at the LMS Welcome Centre or online at:  https://marina.lmsmarina.ca/tickets
Tickets sell-out quickly, so we recommend that you purchase yours at least a week ahead, or buy in advance for the whole season!