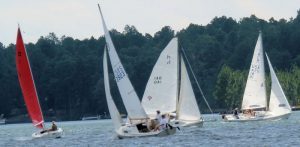 Rhumb Line Results Are In!
The race started in light winds with 12 vessels vying for the best start.
The fun began immediately with a friendly port / starboard altercation on
the start line.
One lone blue boat had on-board communication problems and was about 2km away at the start horn.
One grounding and a shortened course wrapped up the on-water fun.
Approx 45 skippers and crew attended the gourmet hot dog banquet that followed.  Hot dogs were cooked by Masterchef Tang. Refreshments served by our capable volunteers.
Looks like an annual event in the making!